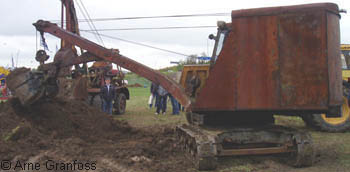 UNDER CONSTRUCTION Version 0.41 on the last updated pages.
Sweden in World War II - across borders


Welcome

Welcome to "Sweden in World War II - across borders".
The purpose of this web site is to give you and me a simple overview of Sweden during World War II, when the neutral Sweden was surrounded by World War II.
The focus is on what passed Swedish borders, in one way or another - sometimes seen in a wide aspect.

It consists of a series of web pages with different topics. The content is based on information from a number of sources.
I begin with some background information on a few pages, to set the scene. This will be very brief.
The menu to the left is in a very rough chronologic order, and the content is not strictly sorted.
Note - The photos are foremost illustrations to make the web pages more pleasant to watch, but they have some connection to the nearby text. (Some photos have captions - place the pointer on the photo to read the caption. But it seemingly doesn't work in all programs.)

More will come, but it may take some time until I publish version 1. I have plenty of books and documentaries to search for more fragments.
Mostly I read books before I go to sleep, and place a piece of paper where I find interesting fragments to use. This photo shows some of the books. In February 2019 I had more than 50 books with pieces of paper in them, and more than 30 that I haven't read yet, so this hobby will take some time.
The version number on each web page will be changed when it is updated. This is work in progress, so bear with me for misspellings, missing pieces and more.


Background
During 2010 and 2011 I read my books about Norway in World War II, and some books about related activities in Scandinavia. As I read on, I felt that I got a rather unclear picture about Sweden's activities and roles in the war. That made me curious. I did not find an overview, so I decided to create this overview based on material I have easy access to.
My aim is not to write the complete story. I will not describe Swedish domestic politics, social situations, et cetera.
It will be fragmentary with short texts, but with fragments that may give you an overall view of the whole picture. Sometimes I write some longer texts, where I think this can improve the understanding of the conditions Swedes and people in Sweden lived under.
I will foremost use books and documentaries that may be more difficult to find in other languages than Swedish and Norwegian. Sometimes different sources give different information. And some things may not be true.
I am not familiar with military language, and English is not my native tongue. Most translations into English are my own. I will not spend much time to find the correct words and phrases. I feel confident that you will understand my texts well enough.

2019-04-07. www.granfoss.se. Text/pictures: Arne Granfoss<!sww2welc>