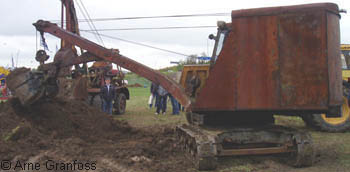 UNDER CONSTRUCTION Version 0.3
Sweden in World War II - across borders


The white buses


Many persons from Denmark and Norway were sent to Germany as prisoners. Among others the Norwegian seaman's chaplain in Hamburg in Germany and a couple of Norwegian students who were detained in Germany worked to keep updated records of all the Norwegian prisoners. [s47]




During the war 504 Norwegians were sent to the German conzentration camp Natzweiler, where 247 of them died. [s46]
These prisoners should have been shot in their home country, but the Germans had decided that it was more suitable to send them to a "Nacht und Nebel" (Night and fog) camp. It should not be known where they were sent, and the average time that prisoners survived was two months. As the Allies advanced, the German prisoners were moved to other camps. 300 Norwegians arrived at Dachau, and by mistake were allowed to write letters home and to the Swedish Red Cross. Their existence could be added to the list. [s47]
One Norwegian "Nacht und Nebel" prisoner also kept secret notes about more than 500 other N&N prisoners, for example where they were sent. [s47]


Towards the end of the war Heinrich Himmler was German minister of the interior and chief for the SS who controlled the German concentration camps. After several negotiations the chief of the Swedish Red Cross, count Folke Bernadotte, managed to organize the rescue operation with the white buses. [s06]
This agreement was unknown to Hitler. [s19]
Hitler had ordered that all prisoners in all camps, except German prisoners, should be killed. [s47]


I have read and heard different versions of the origin of the idea to rescue the Danish and Norwegian prisoners from the German concentration camps.
The Norwegian diplomat Niels Christian Ditleff, who worked as representant for the Norwegian government, proposed at a dinner at the end of September 1944 an operation for the Norwegian prisoners in Germany. Folke Bernadotte, who also was there, was positive and said that he would go to Drottningholm and discuss it with the Swedish king the following day. Another source mentions that Ditleff made a proposal to the Swedish foreign minister on 10 February 1945, and got the answer that the Swedish government assented the idea that Folke Bernadotte began confidential negotiations in Berlin about sending Danish and Norwegian prisoners to Denmark or Sweden. In 1945 Folke Bernadotte wrote in a book that he got the idea when he visited Paris in November 1944 and met the Swedish general consul in Paris Raoul Nordling - who told among others how he had managed to prevent the deportation of many French women and men to Germany. [s60]
Folke Bernadotte had been active in the war prisoner exchanges that had taken place via Sweden, he knew much about the aid efforts for prisoners in German camps, and had in October-November 1944 met Allied authorities and discussed aid needs in Europe directly after WWII. On 16 February 1945 he flew to Berlin for negotiations about this operation. [s60]
Apparently Felix Kersten, Himmler's masseur who seemingly at various occassions had managed to influence Himmler to take decisions that were positive to among others Scandinavian prisoners in German custody, talked with Himmler about the Danish and Norwegian prisoners. The Swedish foreign minister is said to have asked Kersten to introduce Folke Bernadotte to Himmler. [s60]
In February Sweden had asked the German Auswärtiges Amt to release Jews from Bergen-Belsen, Theresienstadt and other concentration camps, and offered to receive released Jews. [s60]
It was very important to Sweden to help the Danish and Norwegian prisoners in German camps. On 13 February 1945 the Swedish foreign minister wrote to the Swedish envoy in Berlin that maybe also the Swedish legation ought to leave Berlin, but the effort to rescue the Danish and Norwegian prisoners was so valuable that this alone motivated that the Swedish legation remained in Berlin. [s60]


Much have been written by many about The White Buses, so here I'll only present some fragments.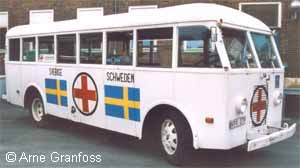 The vehicles left during two days, 9 and 10 March, since all of them couldn't be carried on the ferry to Copenhagen at the same trip. The evening before the first group left, orders came that all vehicles had to be painted white - otherwise the Allies would not be able to respect the Swedish vehicles. Some painters finished the painting onboard the ferry as it sailed to Denmark. [s60]
The first step was to drive through Germany and collect Danish and Norwegians from various concentration camps, and deliver them to the concentration camp Neuengamme near Hamburg. [s06]
To assemble all these prisoners in Neuengamme (where it became so crowded that the Scandinavians had 1 bed for 4-5 persons), they also had to transport many non-Scandinavian prisoners from Neuengamme to other camps. [s60]


The information from Norwegian intelligence, in cooperation with among others Danish relief workers, was of much help. They had tried to keep records of where more than 7,500 Norwegian prisoners were kept from time to time. This gave the Swedes a good knowledge of which camps to collect prisoners from, but in a camp near Hannover (to which they drove non-Scandinavian prisoners) they heard rumors about Danish prisoners in the camp. The German commander confirmed that there were 73 Danish prisoners (most of them sailors on Allied ships), and they were brought to Neuengamme. [s67]
Initially the purpose was to fetch Danish and Norwegian prisoners. On 26-27 March an offer was included to use the Swedish Red Cross buses to transport non-Scandinavian prisoners to Neuengamme, foremost 25,000 French women. It was also written that if Bernadotte found it suitable, he could also demand to bring a number of Jews to Sweden. [s60]


Dachau at the turn of the month March to April 1945. The contact man for the Norwegian prisoners stood in front of the commander of the camp. He had asked about how to move the sick and the weak prisoners, and got the kind answer that he could use the soldiers that was needed. Outside the camp were a group of white buses waiting. Those who could walk did so, and some crept to the buses to get away from the camp as fast as possible. [s47]
On 22 April the Swedes fetched 2,873 women from Ravensbrück - 'French, Belgian, Dutch, Polish and Jewish'. On 25 April they managed to fetch another 4,000 women from Ravensbrück, who were sent via Lübeck directly to Sweden. Another 7,700 women were fetched from three camps the day before V-day, and another 10,000 very sick prisoners the day after V-day. [s60]


The second step was Himmlers permission to transport the collected prisoners to Sweden. Most Danes left the transports when they passed Denmark on the way to Sweden. [s13]


The Allied forces wanted information about the routes of the white vehicles, but could not give any guarantees. Folke Bernadotte was attacked by plane when he drove a white car. [s60]
Two Allied air attacks during daytime on 25 April resulted in 6 killed and 26 badly injured persons. The convoy, on the way from Ravensbrück, also included vehicles from the International Red Cross with Canadian drivers (released war prisoners). One of the Canadian drivers was killed in the air attack. The following day the rest of the convoy was on the way from Lübeck to Denmark, when it once again was attacked. Totally 25 persons were killed. [s60]


The last Scandinavian prisoners were evacuated from Neuengamme on 20 April 1945, brought via Denmark to Sweden. [s67]
Around 26 April 1945 the last convoy arrived in Denmark, with close to 1,000 women. [s60]
150 Swedish men and women had volunteered for the mission, and left for Germany in 75 buses and trucks (with among others fuel). All vehicles were painted white with large red crosses, Swedish flags and the text "Sweden". [s19]
Another source mentions 350 Swedes in 95 buses, trucks and ambulances. This took place while Allied forces attacked Germany, with among others bomb raids. Among others the Swedes searched for three days for the small camp Vaihningen in southern Germany, and happened to find it as they were about to give up the search. As the buses passed through Nürnberg the city was on fire and buildings collapsed. Luckily none of the Swedish vehicles were seriously damaged. [s47]
308 doctors, nurses, almoners and military personnel. 36 buses, 19 trucks, 7 cars, 7 motorcycles, 1 wreck truck, workshop and field kitchen. The tent camp was established at the castle Friedrichsruh (the owners wife was Swedish, and an old friend to Folke Bernadotte) near the camp Neuengamme. 350,000 litres of fuel, food, medicin and other equipment were brought to the camp via the port in Lübeck, so the expedition was self-supporting. Later Danish personnel and buses (maybe more than 100) joined. [s60]
From 12 March 1945 the white vehicles drove a distance equivalent to 36 times around the globe. [s19]


11 000 Danish and Norwegian prisoners were rescued from many concentration camps, and also 8 000 prisoners (mostly women) from 22 other nations. [s06]
A Red Cross document listed some 21,000 persons, of which around 8,000 were Scandinavian. Among the others were 5,911 Polish, 2,629 French, 1,124 German, 14 British and 9 U.S.A. citizens. Jewish organisations in Sweden estimated that some 6,500 Jews were rescued. [s67]
Many of the Norwegians were taken care of in Swedish hospitals, unil they could travel back to Norway. [s47]
On 9 April 1945 the first former prisoners arrived to Raml&oumlsa Hälsobrunn near Helsingborg in southern Sweden. The prepartaions had been made in secrecy, to avoid publicity that might make the Germans stop the rescue operation. Hastily also schools and other areas were in use, since the rescue operation had fetched many times more people than initailly believed. The Danish, Norwegian and Swedish medical staff had a tough work, in many ways. Around 100 patients died during the first days. Totally around 500 of the rescued prisoners died, most of them Jews and Poles. [s67]


(In June-July 1945 another 10,000 former concentration camp prisoners were brought to Sweden. Read more on the page "Sweden after the war".)

2013-05-22. www.granfoss.se. Text/pictures: Arne Granfoss<!sww2twb.htm>